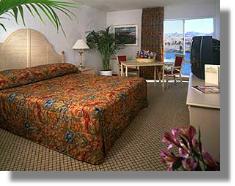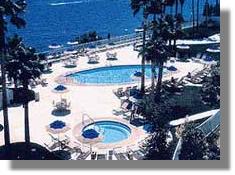 The Golden Nugget Laughlin is an intimate resort on the banks of the Colorado River. Guests can enjoy river, pool or courtyard views from the resort's 300 tropically-themed rooms. Floor plans feature king, queen and one-bedroom Paradise Suites.

By day you can enjoy jet skiing down the river. By night, party with a Jungle Fever and a evening of dancing at Tarzan's Nightclub. Or just relax inside the 30 foot glass topped atrium's tropical rainforest.

Dining at the Golden Nugget comes in all types. Enjoy gourmet wood-fired pizzas from Jane's Grill. Try the popular T-bone steaks at the River Cafe. The Deck not only offers a casual dining atmosphere with delicious lobster bar specialities but a great view along the river bank too.

The concierge can also book other exciting activites like a round of golf at one of three nearby courses or a six hour tour down the Colorado River through the Topock Gorge to the famous London Bridge.